B2B sales teams increasingly include presales professionals who explain complex technology and apply complex solutions in customer-facing roles. As content and solutions are increasingly customized to account specifics, presales team members provide the necessary knowledge, bandwidth and experience to support account managers and new account reps in moving qualified opportunities through the sales pipeline.
Value selling improves sales and presales team performance.  Value Propositions address sales challenges throughout the B2B sales cycle. For account executives and sales reps, they are useful early in the sales cycle in call preparation, in building sales confidence, in qualifying opportunities and in engaging customer executives.  For presales professionals, joining the customer-facing team in the middle of a sales process, Value Propositions are an important way to address presales challenges and to maximize the impact of presales.
Recently, we outlined a framework to think about the relationship between B2B product focus and customization across B2B sales organizations. Some sales teams are accountable for single products.  More sales teams are diversified, focusing either on product and service packages or

on selling products or solutions from a multiproduct platform.  At the other end of the spectrum is a custom solution focus. Presales roles and titles (Product Managers, Subject Matter Experts, Technical Sales, Solution Consultants, Sales Engineers, Solution Architects) often reflect the product focus of an organization as well as the presales role in customization.  In our last blog, we highlighted four strategic trends that are driven by the need for quality and the increased expense of selling complex products and solutions using specialists.
Customization, Value & Product Focus.  In this blog, we look more specifically at how Value Propositions help presales professionals customize both content and solutions for customers.


Single Product Focus. Presales professionals, working with sales reps who are focused on a single product, tend to have titles like Presales, Product Managers, Business Development Representatives, Technical Sales and Subject Matter Experts.A sales force with primary responsibility for only one product is usually focused for a reason.  Our product is strategically important.  Our product is new and innovative.  Our product is the only product we have.  Our product is the natural first step or gateway for a new account; selling add-on products and solutions will make more sense following gateway product implementation.  For most of these situations, the customer tends to be a new account, at least for the business unit involved, if not for the whole enterprise.

This level of focus usually coincides with a set of customer technical and implementation challenges that are bound to arise during the sales process.  With any innovative product or any product that requires significant customer change, the challenges usually involve:



persuading the customer that our product will deliver
persuading the customer that our team has the relevant experience to support them in implementing the product successfully
persuading the customer that our product is a good fit for their needs and their business

Although our single product or solution may not itself require any customization, these challenges are often addressed positively by the customization of content, both in conversations and in specific materials. Engaging in the specifics of a customer's business and business problems in a conversation is often a good way to connect with customer executives, to build credibility fast and to develop a trusted advisory relationship.  Providing customer-specific materials , in the middle of the sales cycles with illustrative value or later in the sales cycle with a mutually agreed business case, helps build customer confidence in the experience of our team and in any recommendation we might be making regarding fit.

Presales' effective use of Value Propositions in customer conversations and follow-up materials is a good way to accomplish these objectives.  Even before they are tailored to customer specifics, Value Propositions provide direct and concrete quantitative insight into how our product has delivered business results for others, our Product Value.  The conversational process of tailoring the Value Proposition to customer specifics builds credibility with the customer that presales understands the customer's business and is aligned in providing a solution that is appropriate to the customer.  As customer stakeholders work through their evaluation process with presales, collaboratively refining Value Proposition assumptions and testing Value Proposition sensitivity to our claims becomes an important way to build consensus.  The result is stakeholder buy-in for a shared business case to buy.  The customized materials that result highlight Specific Value Created and become an important input to the customer's internal decision-making process.

Finally, the process of using and customizing a Value Proposition, usually driven early in a product's life by presales, becomes a way for sales reps or account executives to learn our product and learn the customer's business.  Value Propositions, used initially by presales, become viral as sales reps are exposed to Value Proposition conversation in meetings with presales.  The best reps become ready, willing and motivated to have deeper value conversations with customers themselves.




Product/Service Packages. Presales professionals take on an additional role as the sales focus broadens into one where more than one product and/or services packages are on the customer's menu.  For presales, this begins to approach territory where titles like Solution Consultants and Sales Engineers arise.  At its simplest level, package offerings like gold/ silver/ bronze are often designed as a way to segment customers of a core single product for offering and pricing purposes.  The choices can become more complex as the menu of alternatives expands around the core single product offering.Since these packages often center on a core innovative product requiring customer change, the challenges of Single Product focused sales teams highlighted above apply in the case of Product/Services Package Offerings.  The corresponding benefits of using and customizing Value Propositions to address these challenges by emphasizing Gold/ Silver/ Bronze Offering Value generally and specifically also apply.


But with product and service package offerings, Value Propositions can play an additional role by quantifying our Specific value in package selection.   Customizing our solution adds a dimension to the customer conversation as well as to any agreed business case.  The specific discovery needed to choose a custom solution can be a useful way to position our presales professional as aligned with customer interests.  Customizing the solution becomes a potent way to drive the customer conversation from a serve-and-volley, "prove-our-worth" exchange to a "best-solution-for-you," advisory discussion.




Multiproduct Platform. The challenges for account executives and sales reps add a further dimension when their responsibilities extend to a multiproduct array.  In many organizations there is a natural role for the product-specific presales professionals described above, but there is also more scope for Solution Consultants and Sales Engineers whose product portfolio extends across the Multiproduct Platform.  The matrix of presales support varies with the products themselves and with sales responsibilities.

At one end of the spectrum, the strategy is for account executives working with existing accounts to upsell and cross-sell other products and solutions from the multiproduct platform.  This sales approach is generally a product (or a package) at a time.  Product-specific presales professionals start with similar challenges and opportunities to those highlighted earlier as they use Value Propositions to highlight A la carte product value for their product.  With a multiproduct platform, product-specific presales professionals have an additional challenge of getting the attention of account executives with more extensive choice of which products to prioritize.  Having great Value Propositions for a specific product is a useful way for a product-focused presales person to get the attention of account executives.

In the product-at-a-time approach, Value Propositions play two additional roles for sales teams:
Value Propositions help account executives with many products to build confidence and to prepare for calls more efficiently. A well-designed Value Proposition for our product is a clear, simple way for the account executive to get a quick reminder of what our product does for the customer and why the customer should care.
Value Propositions help account executives select between opportunities, choosing from among our products, the best ones to upsell with a specific account. Account executives with a solid understanding of a customer's business are able to consider a Value Proposition for several products, make a few customizing changes and identify where the greatest customer value might be created.
For multiproduct platforms, this product-at-a-time approach is not the only way to define responsibilities and not the only way that presales may be deployed.  Some presales teams have more of a multiproduct portfolio responsibility built into their presales role.  This is the domain of the Solution Consultant, applying a package to support a specific customer program or solve a specific customer problem.  In the package approach, the expectation is that most of our proposals will be multiproduct solutions tailored to the situation.
In this case, tailoring the Value Proposition to obtain a Customized package value becomes a crucial step in selecting the package most likely to move a sale forward.  The discovery questions required to customize the Value Proposition are usually closely aligned with those that are essential to selecting the best  customer package.
Finally for key accounts making many selections from the platform, there is the Relationship/ portfolio value approach sometimes undertaken by specialist value engineers.  Here the objective is usually to highlight the strategic value we create for a major customer, often post-sale as part of a customer success or executive relationship.  The objective is typically to expand the business and to drive renewal discussions toward collaborative mutual agreement about value instead of letting them drift into zero-sum discussions of price.
Custom Solutions. There are a number of businesses where Custom Solutions are the norm, including custom software and professional services including strategic consulting, transaction advisory and legal advisory services.For businesses where every offering is bespoke, off-the-shelf Value Propositions can play a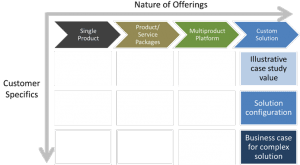 different but useful role in the early part of a sales cycle.  When our offering is not yet known, it is hard to quantify early the direct value of our possible offerings.  Instead, Value Propositions at the beginning of the sales cycle engage the customer in discussions of Illustrative case study value.  This becomes an effective way with a new account to credentialize our capabilities. It is also a tangible way to draw customer reactions that begin to define a custom project, specific deliverables and our scope of work.


This helps transition the discussions to Solution Configuration for the Custom Solution.  As the design evolves, it becomes natural to develop a Business case for the complex solution in parallel.  The business case for large projects is invariably needed by client sponsors to obtain approvals and move the process forward.  But an agreed business case for a Custom Solution also becomes a part of the library, once appropriately anonymized, of illustrative case studies that can be applied early in the sales cycle for the next Custom Solution target account.


In sum, Value Propositions are a useful presales tool that address the challenges of complexity and help customize solutions and content across a wide array of B2B product and sales strategies. Even with different t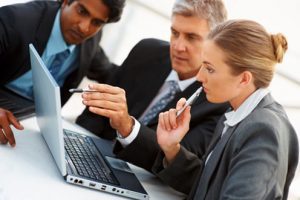 hemes and variations of presales roles and responsibilities, Shared Value Proposition builds organizational collaboration that helps B2B sales teams win.
Sales and presales professionals use Value Propositions together to communicate bottom-line results, highlight differentiation and cut through complexity as they get account commitment to evaluate our solution.   In an evaluation phase, Value Propositions are a framework for customer diligence, handling objections and building consensus in conversations with multiple stakeholders.  Ultimately, Value Propositions become a basis for building trust and collaborative relationships with customers.