Build Power Users Faster with the LeveragePoint Video Training Series
The LeveragePoint Customer Success team is proud to announce a new initiative to help users in their journey towards adopting value strategies: the LeveragePoint Video Training Series!
This E-Learning system is designed to allow users to easily find and access content that will help them learn how to tell value stories in LeveragePoint. Each video training module is hosted in a value proposition and will cover a specific topic, such as how to build a value model in LeveragePoint, how to communicate your value model, or how to use a value proposition. The modules are split into chapters consisting of a short video, usually around five to seven minutes long.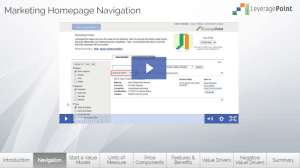 The LeveragePoint Video Training Series will at first focus skills necessary for newer users. However, as we continue to build our library, we will be adding videos and modules on more advanced topics, including choice variables, logic, basic template editing, and more!
While we still recommend live workshop trainings for users, who can then access these videos to refresh topics as needed, the LeveragePoint Video Training Series can serve as a stand-alone training if needed.