Tell Better Stories with LeveragePoint's New Customizable Sales UI
Last month, we added a layer of flexibility in our Value Proposition view that allows users  to control the way you tell your value story by reordering your content for a more compelling story.
This month, we're taking that control to a powerful place with the introduction of custom slides. In addition to slide re-ordering, you now have the ability to customize the look and feel of your entire Value Proposition story. This will allow you to embed your corporate branding into your value story conversations.
Powerful Design Possibilities. Until now, you've seen the "standard" look and feel of a LeveragePoint Value Story. That look conveys a message, and serves a purpose, but it is difficult to get a truly branded experience in front of your customer. With our latest release, all of those limitations are lifted. You can incorporate your company's branding with very little effort. Our team of designers will work with you to ensure your LeveragePoint story matches your website and any other materials. Take a peek at a screenshot showing our standard template on the left, and a few examples of what it could look like within our new sales UI: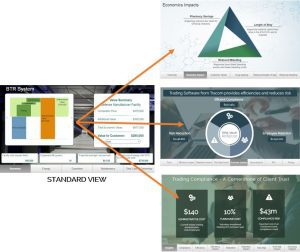 That's just the tip of the iceberg when it comes to creating a great-looking, powerful presentation that sales reps will feel confident in delivering.
Multiple Model Views. Every Value Model tells a story. Often times, however, the story you're telling with a given model might not match completely with the audience you're telling it to. You've always been able to create different model views with LeveragePoint, but now that we've added design flexibility to the platform, the idea of multiple stories for a given model becomes a reality. Imagine having a three layer value story approach with the same model driving all three presentations:
A

qualitative

model: "Our solution is more energy efficient"

A

quantitative

model: "Our solution reduces energy consumed by 35%"

A

financial

model: "For that facility, we reduced energy costs by $4.2mm per year"
We'll take a deep dive into each of the above mentioned stories and when they might best be used in the sales process in a series of blog posts over the coming weeks, but in the meantime, if you'd like to learn more about implementing some of this great new functionality, please contact Craig Blum, Vice President of Customer Success, at customer_success@leveragepoint.com.