This week I'll be "reporting" live from Gartner's Sales & Marketing Conference in Las Vegas! Discussion topics will be posted on Twitter, and all the juicy details can be found in these Daily Digest posts concluding each day. With Day 1 and some proper jet lag in the books, I am looking like I put my Halloween makeup on 22 days early; thank goodness I can hide behind the internet, am I right?! Well, B2B buyers seem to agree…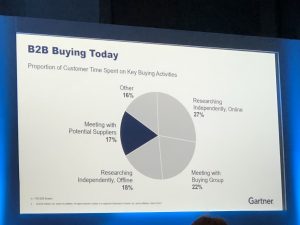 In the first session of the day Scott Collins, VP of Advisory at Gartner, shared a recent study of 750 B2B buyers. The study found that 27% of the overall buying journey is spent researching independently, online. 22% is spent meeting with an internal buying group (they're 49% of the way through, and still haven't spoken with sales). 18% is spent researching independently, offline. 16% is spent doing "other." Finally, just 17% of the overall buying journey is spent meeting with potential suppliers. But remember, you're not the only supplier. "There are fewer opportunities for sales to communicate potential value," Collins said. Your sales team is lucky to interact with a buyer for 5% of their overall journey. The slice of that 17% that you do get, needs to be customer-focused and value-driven.
Brent Adamson, Distinguished VP of Advisory at Gartner, later added in his Keynote, "How do we win the right to get more time with our customers? Well, we've got to provide more value. We have to give our customers a reason to talk to us in the first place."
What are you going to say that customers haven't figured out on their own?
This is a huge concern of sales leaders wondering if their reps are equipped to deliver this kind of value, especially when the typical sales presentation covers company history, features and benefits. Their answer to the concern? … More reps! If they don't work, bring in the subject matter experts! If they don't work, bring in the sales engineers! If they don't work, bring in the sales leaders! If they don't work, bring in the freaking C-suite!! … As you may have already imagined, this is not a scalable plan.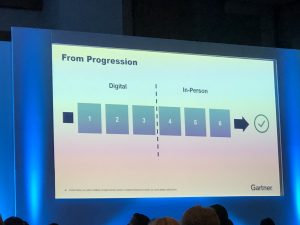 So how do we advance customers through their purchase? The first step is understanding the purchase. Historically, we've thought about B2B buying as a linear progression: moving from digital marketing to in-person sales meetings. Gartner put a whole new spin on the journey as we know it stating, "B2B buying isn't linear – it's about completion, not progression." Specifically, the completion of 6 jobs:
 

Problem Identification

Solution Exploration

Requirements Buildings

Supplier Selection

Validation

Consensus Creation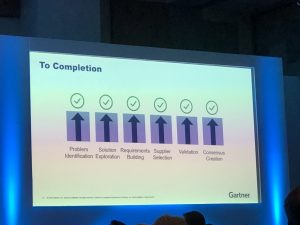 Customers are looking for helpful information from marketing and sales to complete these jobs. Gartner labeled the provision of information that supports the completion of critical buying jobs as "Buyer Enablement". We must deploy Buyer Enablement through both in-person and digital channels to support job completion. But how do we build Buyer Enablement? How do we construct a Buyer Enablement ecosystem? 
Tune in tomorrow to find out.