In a recently published case study, we explore how Fiserv, a global leader in financial services technology, was able to mobilize a transformational Value Selling initiative using LeveragePoint as their chosen platform for value collaboration. As an organization laser-focused on customer value, delivering quantified financial results for their customers is a top priority throughout their organization.
We spoke with Rick Cantril, Director of Value-Based Strategies, to learn more about how they scaled their Value Selling initiative organization-wide. Rick was instrumental in helping Fiserv drive this change management strategy, and described a three-phase approach that they used to embed value across teams and functions.
"There are three stages that are the essential steps in terms of developing the maturity of a value strategy program," he shared.  "First, you've got to launch the program, then you've got to build the momentum and get more of the organization or business unit involved, and finally you reach a point where you're sustaining that performance over time. That's been the recipe for success that we've had in our organization for about the past seven years."
Check out the three key stages of mobilizing Value Selling, including some key milestones, below. To learn more about the business impact of this Value Selling initiative, download the full case study.
Stage 1: Initiate Value Selling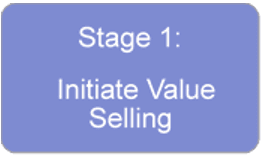 In the beginning stages, Fiserv focused on generating traction with Value Selling. After initial and external tests of Value Propositions for a few of their offerings, they began building their financial models in LeveragePoint as their repository of value content. "There's a real temptation to run before you can walk," Rick recalls, "and to do so you have to have content – that's one of the things that allowed us to generate momentum." Next was generating adoption, which involved building a strike team of motivated champions by introducing this value content at sales meetings, tracking customer reactions and feedback, and publicly celebrating wins.
Stage 1 – Key Milestone: In one early win, Fiserv found themselves attempting to rescue a deal with a longtime customer who was on the verge of switching to a competitor. Rick and the team got to work building a Value Proposition in LeveragePoint to present to the customer. "We met with them, we showed them the financial analysis, and we quickly followed that up with a new operational plan that showed our commitments of how they were going to see the value that they expected from our relationship." The meeting was a smashing success, and as Rick summarized: "We went from losing the business to actually increasing their investment by 50%."
 Stage 2: Dial Up Value Selling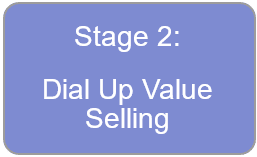 As word spread internally about the success of Value Selling, Rick's next task was to scale up adoption within Fiserv. In addition to expanding the amount of value content and making it easier to create through standardization, Rick was particularly focused on getting more of his colleagues on board. "Change management doesn't go anywhere if you don't invest in people."
By empowering colleagues through training, education, and tools, Fiserv was able to capitalize on the enthusiasm generated by early successes, whether in the form of drop-in training sessions, video tutorials, or public success stories shared with executives. This had multiplier effects, even as colleagues took their own approaches.
Stage 2 – Key Milestone: When one colleague was so keen on adopting value in his business unit, Rick capitalized on that enthusiasm even as that colleague applied his own style. "Only a few years later, he had built one heck of a program within his business unit that now represents about 5% of our total program. That might seem small, but our program is 1500 users across five continents."
Stage 3: Sustain Value Selling at Scale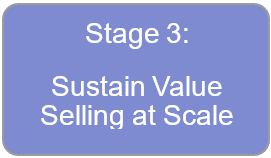 As Fiserv reached greater maturity in their Value Selling evolution, they looked to optimize their content quality at scale and track results, with the goal of embedding value organization-wide. This took the form of a number of initiatives, including certification programs, a Champions Council (a core team of power users), working closely with sales management, and maintaining visibility in the C-suite. With widespread adoption within Fiserv, it became possible to methodologically track client outcomes with the amount of data they now have at their disposal.
Stage 3 – Key Milestone: With the large amount of data at their fingertips, Fiserv was able to measure performance against their business KPIs, the results of which are put directly back into LeveragePoint Value Propositions for better conversations with other clients. This has had a positive impact on their product lifecycle performance: "we noticed a lot of our [product] analysis was very reactive. We had cost analysis, competitive analysis, things like that, but one of the elements that was really missing was this element of value. And now that we're in the mature stage, we have a ton of data from LeveragePoint and opportunities where we've won."

By bringing value to the table, Fiserv's product management has become more proactive, as Rick summarizes: "I'm not suggesting you replace your traditional process with value alone. I'm suggesting that it's a key element that you can bring to the decision-making table that you're missing. And for us, this has led to completely different decisions that maybe we would not have made without this value element."