What's your immediate reaction to these research findings for B2B sales people?


Executive buyers were asked by Forrester Research- Are vendor sales people prepared for your meetings?

77% of reps failed to understand my issues and where they can help!
78% of reps failed to have relevant examples of case studies to share with me!

CSO Insights: 54% of the deals forecast by reps never close!
The first vendor to succeed in communicating a vision to executives wins the business 74% of the time! (Forrester Research)
The obvious reaction is sales teams are losing a lot of deals by not being prepared with relevant content, spending time on unqualified opportunities, and failing at being the first vendor to communicate a vision.
The not so obvious reaction should be: What can I do fast to increase qualified customer opportunities in 2017 and increase sales results in Q1 & Q2?!
This time of year is perfect for sales and marketing leaders to reflect on the previous 12 months by pondering, "What needs improvement next year to increase sales?" Maybe revenue numbers fell short of plan, discounts were too high, the sales pipeline is light entering the new year, new account wins missed projections, and/or a new product launch didn't achieve forecasted revenue. Now is a perfect time to plan changes that positively impact Q1/Q2 results. If you continue the same things you did in the past, you will get the same results as reported by Forrester and CSO Insights, and quickly dig yourself a deep hole early in the new year.
Q1 sales kickoff meetings are motivational and important;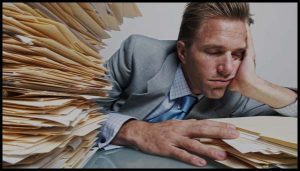 however, while marketing promotes new programs, sales methodologies or more product training for the coming year, sales reps want to hear, "What Sales-ready content and new tools are available NOW to increase pipeline and competitive wins?!"
So, let's start at the beginning of the sales cycle where you control content for initial sales presentations for sales teams to win customer meetings. Sales enablement content repositories shifting the burden on reps to access the "highest rated" presentations, videos, white papers, etc. are NOT the answer! Sales reps at first buyer meetings must be prepared to answer the question, "What do you do for your customers in my industry and what results have they achieved?"
There are two typical outcomes from early buyer meetings:
Passive and Polite



"Thank you. We are just exploring vendor solutions for now."
"Good presentation. We will caucus as a group and contact you in 2 weeks."
"Once we have finished all vendor presentations, we will select the three finalists and let you know."

Positive and Action-Driven



"Very professional, unique presentation! You certainly know our industry. We're interested."
"Your case study example addressed two of our key business issues. Let's schedule another meeting now so we can get key people involved."
"When can your team be available so we can provide our data to determine expected results for us?"
Obviously, #1 is not a good outcome though there wasn't a negative word said. I often asked sales reps, "So, how did your presentation go today?" When reps responded, "There were no objections, they told me I gave a good presentation, and they're going to get back to me."  I'm thinking, "kiss of death!" The difference between the two presentations is simple. The first presentation took the traditional content approach of presenting a company overview, product features and benefits, as the rep assumed a second customer meeting where he/she could bring in technical experts. The second presentation content was geared to today's buyer; it addressed the customer's industry, top business issues and showed typical customer results. Now reps can decide to bring in their technical team for more due diligence on a qualified opportunity.
The amazing reality with today's websites is the content reps need has already been published! Vendor marketing teams have done a fabulous job publishing great content, especially powerful case studies rich with relevant customer content, however, these published case studies are not in a sales-ready presentation format. Reps are forced to email links to the content delivered to the "dark hole" of the customer's inbox!
To avoid this, select an industry case study published by marketing for conversion into a PPT or digital case study that incorporates a typical customer Value Proposition for an existing key solution, or targets accounts to close initial sales during a new product launch. Test Value Proposition content with a small group of sales people, soliciting feedback and revising content in an agile, iterative manner. Once endorsed by sales, promote access of the new sales-ready case study presentation via a short video that will train reps in minutes or act as a refresher in call prep.
As you begin 2017, accept today's buyers are extremely empowered, and DO SOMETHING to provide sales teams impactful presentations with insights and Value Propositions differentiating your solution versus competition for driving more successful early customer meetings, creating a vision for customer success, and increasing qualified sales pipelines. Today hundreds of sales enablement companies are vying for your business by aggressively promoting training, consulting, and new sales methodologies requiring weeks of rep time out of the field often resulting in poor adoption rates. Be careful, but do not wait for the competition to force your hand! You already have the content so you're 80% of the way there.