Equipped with extensive online information, risk averse B2B buyers can be elusive. With competing priorities, buyers erect walls, making it difficult for sales to engage and overcome buyer inertia. As highlighted in our last blog, the biggest sales challenge early in the sales cycle is usually combatting the status quo and getting a buyer to evaluate your solution with the active involvement of your sales team.
Sales Breakthrough – the Evaluation Stage.  Not all buying processes are predictable, but there is often that critical point in the sales cycle when the buyer pivots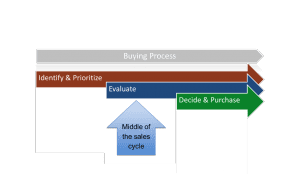 to an active evaluation phase.  The sales rep believes that he or she has overcome initial obstacles, obtaining commitment from real buyers with budget to allocate time and bandwidth to Evaluate your solution.  If the sales rep's perception is correct, a deal has become more probable and deserves the investment of additional sales resources.  This evaluation stage of the buying cycle is the point where free trials or paid pilots may come into play and where the sales rep draws on the expertise of other members of the sales team for group presentations and engagement with the buyer team.
Understanding Sales Challenges, Richardson's 2018 survey, identified the top 3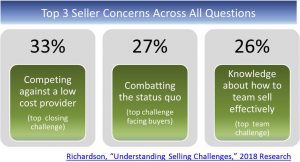 concerns among sales executives: (1) Competing against a low cost provider, (2) Combatting the status quo and (3) Knowledge about how to team sell effectively.  The second problem, combatting the status quo, is usually the key sales challenge early in the sales cycle.   In the middle of the sales cycle, however, the first challenge, low cost competition, and the third challenge, effective team selling, invariably become more important.
Effective Team Selling as Customers Evaluate.  The time for team selling has arrived.  A recent data analysis of a million recorded and transcribed sales calls by Gong, found that having multiple participants in at least one sales call increases closing rates by 258%.  Sales teams are the natural response to more people participating in the B2B buying decision – 6.8 people in the average 2017 buying team. With buyers making decisions by committee, the best sales reps bring other members of their team into customer presentations.   They recruit their executives, sales managers, product managers and other subject matter experts.  In many organizations, they draw on designated, full time presales professionals who are part of the sales team, including solution consultants, technical sales and sales engineers.
A McKinsey team, writing in the Harvard Business Review, observed that in many B2B organizations, presales professionals represent 30-50% of commercial headcount.  The McKinsey team highlighted the payoffs from augmenting presales efforts:
five-point improvement in conversion rates,
6–13% improvement in revenue,
10–20% improvement in the speed of moving prospects through the sales process.
Inevitably, executives, subject matter experts and other presales professionals are scarce and expensive resources who are best deployed at critical points in customers' evaluation processes. The introduction of a broader sales team in the middle of the sales cycle creates challenges, but is essential to bring the relevant expertise and influence to bear on buyer evaluations.
Middle of the Sales Cycle Objectives.  Attention from a buying team during an evaluation phase is a valuable opportunity that can easily be squandered.  Buyer teams are usually composed of a mix of individuals with different job descriptions, interests and attention spans.  Some members of a buyer team are more enthusiastic about being in a meeting than others.  Sales teams usually line up across from buying teams, knowing that they may need to herd cats.
There are four objectives of a sales team in the middle of a sales cycle as buying teams Evaluate your solution:
Credentialize. Your sales rep is introducing new members of the team.  Establish that your team knows what it is doing.  Demonstrate that your team has the relevant experience.  Show that your team has delivered outcomes for other, similar, customers before.




Engage. You have a great product, but it is only as good as the customer outcomes it delivers.  Make meetings customer-centric.  Get customers talking about their problems and their priorities.  Invite members of the buying team to trust your sales team as a key to unlocking effective discovery.




Customize. A good sales rep has established your solution's potential differentiation as an underpinning to the customer's decision to Evaluate.  In the middle of the sales cycle, your team needs to demonstrate that differentiation and extend it by customizing to the buyer's needs and objectives.  Customize your content. Customize your solution.




Prove. Political and random factors may impact B2B buying, but all business buyers require some internal analysis, usually including financial impacts.   Prove your solution's differentiation.  Prove that your solution will deliver.  Prove that your solution is worth the money.  Academically rigorous proof is seldom required. Proof or validation is always comparative vs at least one alternative.  Be ready to demonstrate your solution's value vs the status quo with its ROI. Be ready to demonstrate your solution's value vs direct competitors with a direct TCO, cost/benefit or economic value comparison.
Value Propositions for Sales Team Conversations as Customers Evaluate.  A Value Proposition can and should be the central piece of content that supports sales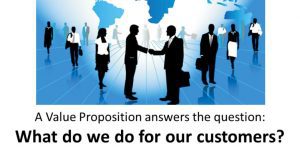 teams in achieving these objectives.  At a fundamental level, a Value Proposition answers the most important question any buyer will ask: "what do you do for your customers?" A good Value Proposition is both better than, and simpler than, a complicated spreadsheet.  Value Propositions should be designed with flexibility for how your sales teams have conversations.  The team needs to be able to articulate your Value Proposition not just in financial terms, but also in quantitative and qualitative terms.
Value Propositions can readily be introduced into customer conversations as Flexible Case Studies.  Good case studies are an easy and graceful way to start a discussion of what your solution does for your customer. Case studies are inherently customer-centric.  Whether naming a specific customer or preserving a customer's anonymity, they provide concrete information about what you did for another customer and the benefits your product or solution provided. Good case studies highlight how your product is better, how much better you are and what that is worth to the customer.
Buyer surveys show that the first seller to turn a vision into a clear path to value wins the business 74% of the time. SiriusDecisions' research indicates that the number one problem for sales effectiveness is an inability for sales teams to convey their Value Proposition.     For account executives and sales reps, Value Propositions in the form of Flexible Case Studies are useful early in the sales cycle in call preparation, in building sales confidence, in qualifying opportunities and in engaging customer executives.
Whether they are introduced early in the sales cycle or in the middle of the sales cycle, Flexible Case Studies allow your sales team to change assumptions as they learn more

about buyer specifics.  The resulting transition of the case study to a specific Customer Value Analysis then becomes an integral part of the buyer evaluation.  A Customer Value Analysis sets up the opportunity to get buy-in from customer sponsors. When a sponsor agrees to a Shared Business Case to buy with your sales team, that agreement supports faster and better results during the negotiation and procurement stages at the end of the sales cycle.
How Sales Teams Use Value Propositions in the Middle of the Sales Cycle.  Let's look at how sales teams use Value Propositions to achieve each of the four objectives in a buyer evaluation.










Value Propositions as Tools. The best B2B enterprises deploy Value Propositions to improve B2B sales performance, addressing sales challenges in a way consistent with an organization's sales training, throughout the B2B sales cycle. They are useful early in the sales cycle as Flexible Case Studies for sales to qualify opportunities and engage customer executives.  In the middle of the sales cycle, Value Propositions provide Customer Value Analyses as an important consultative selling tool that address presales challenges. As customers decide to purchase, the Value Proposition becomes a Shared Business Case, collaboratively agreed between sales executives and customer sponsors, that speed the closing process as a buyer's financial rationale to buy.
It isn't hard to start value selling.  Value Propositions provide core sales content that helps sales teams communicate what your solution does for your customers. Value Propositions are a shared basis for collaboration that help sales teams win.